BeautifulMars Comes to Beautiful Wales
HiRISE is very proud to add Welsh (Cymraeg) to our
roster of languages
, with a new
Tumblr
, dedicated Twitter feed (
@HiRISEWelsh
), and
version of the HiRISE site
. These are the first and only resources from an active NASA mission in the Welsh language, and we could not accomplish this without the commitment of our volunteers.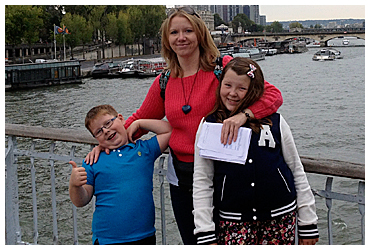 Volunteer Helen Mainwaring:
The BeautifulMars Project takes my passion for the Welsh language to another level and I'm so privileged to be a part of this project and to ensure that the Welsh language is up there with the rest of the languages.
Primarily I am a mother of two, and secondly a translator. As well as running my own translation business (ac ati...) which involves simultaneous translation and written translation for a wide variety of organizations in the public, private and voluntary sector, I am also a Voluntary Director for a not-for-profit Welsh Language Centre called Ý Lle in my town of birth, Llanelli. Its aim is to promote and safeguard the Welsh language in the town and to be both an incubator and a stage for young Welsh musicians and pop groups.
I am also Voluntary Liaison Officer for a local organization called Clwb Gwawr y Sosban, offering social opportunities for young women through the medium of Welsh and I am Voluntary Editor and Chair of the local Welsh medium monthly publication called "Papur y Cwm."
I have a first class degree in Theatre, Music and Media and an S4C Sub-titling certificate and held numerous posts with Welsh medium establishments (including the Welsh weekly magazine Golwg, and the National Eisteddfod of Wales) before setting up my own translation company in 2001, winning the Shell Livewire Young Welsh Entrepreneur of the Year in the same year.
Pob hwyl i brosiect BeautifulMars!
We also want to extend our thanks to volunteers
Rachel Holden
,
Ashley Pritchard
,
Sioned Davies
and
John Good
for their invaluable help and participation.
The purpose of the BeautifulMars Project is to reach those people, especially children, who want to know about Mars but don't have strong skills in English. Our Project also serves as an excellent tool for language promotion and preservation. Since we call HiRISE "the people's camera," our project is a perfect way to bring planetary science to people all over the world in their own language. More importantly, we always seek to improve on what we have, so if you see something that can be worded better, let us know! Communicating with people is what the Project is all about.
If you're interested in volunteering for HiRISE Welsh, please contact
the BeautifulMars Project
.
About HiRISE
The HiRISE camera onboard the Mars Reconnaissance Orbiter is the most powerful one of its kind ever sent to another planet. Its high resolution allows us to see Mars like never before, and helps other missions choose a safe spot to land for future exploration.
NASA's Jet Propulsion Laboratory, a division of the California Institute of Technology in Pasadena, Calif., manages the Mars Reconnaissance Orbiter for NASA's Science Mission Directorate, Washington. Lockheed Martin Space Systems is the prime contractor for the project and built the spacecraft. The HiRISE camera was built by Ball Aerospace & Technologies Corp. and is operated by the
University of Arizona
.