Saturday, April 21st, 2007
On Thursday, April 19, 2007 I presented "HiRISE: The People's Camera" at the Prescott Public Library in Prescott, Arizona. The library and the Prescott Astronomy Club put together a wonderful sequence of talks and star parties as part of International Astronomy Week.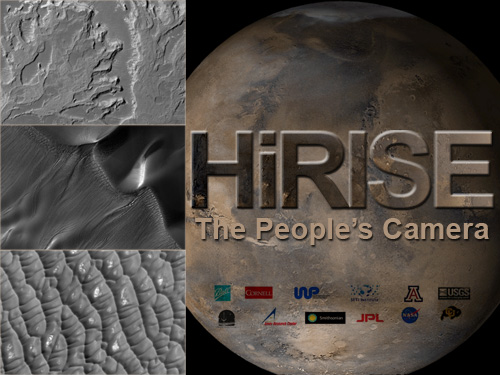 My presentation went well. For some reason I was especially nervous right before the talk, but immediately after I started my nervousness went away, most likely because my hosts and the audience were so receptive. I am not sure how many people attended, but the room was full. At the end of the presentation there were a lot of great questions from the audience, including basic questions about Mars, questions about our current understanding of Mars, questions about HiRISE and its capabilities, and questions about the future of space exploration. I put my foot in my mouth only once, when I referred to the Deep Space Network (DSN) as "antiquated". A former JPL engineer in the audience politely and informatively corrected my word choice.
A couple weeks before the talk we snail mailed two color printouts of PSP_001336_1560 – "Delta in Eberswalde" – to Prescott for framing. One image is the entire black-and-white image with central color swath, and the other is a zoomed-in color subscene. During setup prior to the presentation, the frame shop delivered the images, and they had done a fantastic framing job! People were naturally drawn to the images before and after the presentation and I answered lots of questions about them.
I promised I would place the PowerPoint presentation online, and here it is. The PowerPoint presentation file is about 22 MB in size. I have notes in the notes section of the slides, including information about the images used as well as their URLs. I want to especially thank Stuart Heggie for allowing me to use his beautiful astrophotography image "Conjunction of Moon, Venus and Mars – Dec 1 2002". His image helped me to make a point about the history of Mars observation.
Thank you to my hosts, including Meghan and Douglas, and everyone who attend a delicious pre-presentation pizza dinner, including the current and former presidents of the Prescott Astronomy Club and their spouses, the library's Adult Services Director, and the talented graphic designer of many of their brochures and other materials (including a t-shirt I will take a picture of soon). The audience deserves my thanks because they had such great questions and were incredibly good-natured. Thank you, everyone!